Scout Willis walked through the streets of New York topless on Wednesday at the end of may, in protest at Instagram's policy of banning nude images from the social networking site.  This story is now going viral under the #freethenipplecampaign with some innovative ways around the social networks no nipples policies with well known celebrities joining in.
What @instagram won't let you see #FreeTheNipple pic.twitter.com/lASApy0W0S

— Scout LaRue Willis (@Scout_Willis) May 27, 2014
Backing The #FreeTheNippleCampaign, the daughter of Demi Moore and Bruce Willis, flashed her flesh with pride and unsurprisingly, it got our attention. It seems the 22 year-old could have started a nipple revolution, and told her Twitter followers, it's way more than just Instagram now.
She wrote: "Now that every1 is listening,let's talk about root of what is happening here, stop sensationalizing and talk about what's really at stake,"
"It's so much bigger than @instagram now," she went on. "This is about helping women feel empowered to make personal choices about their bodies not dictated by what society says is decent."
Social media has spoken, and nipples aren't OK. At least, not if they're a woman's. This was the motivation behind artist Micol Hebron's nipple template designed to cover images of women's nipples with a man's, thus making them social media "appropriate".
Hebron's device, which has seen male nipples go viral, comes in the wake of a successful online campaign to #freethenipple, which saw celebrities going topless in a bid to raise awareness of the double standards between male and female nipples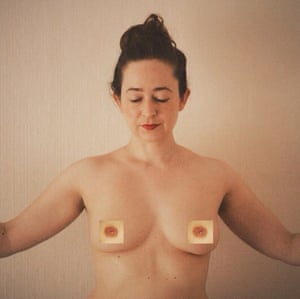 Both Instagram and Facebook have a stringent anti-female nipple policy – offenders will get their photos removed unless there's a breastfeeding baby in the vicinity, or the image depicts post-masectomy scarring.
The campaign has even got the backing of Rihanna, who was one of the reasons Scout's campaign started.
The Bajan beauty's Instagram account was taken down after she posted an image of herself topless. RiRi re-tweeted Scout's protests and added a "FREE THE NIPPLE" as well. So could we see more stars taking Scout's attitude towards online censorship?
reference:http://archive.entertainmentwise.com/news/150636/scout-willis-topless-protest-against-instagram-will-more-stars-join-free-the-nipple-campaign and http://www.theguardian.com/lifeandstyle/shortcuts/2015/jul/07/instagram-facebook-female-nipple-ban-use-male-nipples-instead